Innovation Magazine
"Innovation...A Way Through Recession" ~ By Ted Jagusztyn ~ November 2009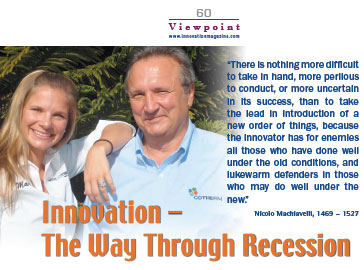 Today in the 21st century, Machiavelli's insight into the difficulties confronting the innovator still rings true especially in the big corporate environment. Of my thirty six years in the air conditioning industry, thirty two were spent working for a big corporation which sent me learning and traveling to over fifty countries. If there is one thing I have learnt from my years of travel, it is that big corporations do not take easily to innovation – something that requires and takes advantage of disruptive technology. Faced with such myopic atrocity, I struck out on my own and began to read and think intensively. I learned from Napoleon Hill that "the only difference between a dream and a goal is a deadline". From another voracious reader, Thomas A. Edison, I learned "the value of an idea is in the using of it". Steven K. Scott in his excellent book The Richest Man Who Ever Lived: King Solomon's Secrets to Success, Wealth, and Happiness interpreted King Solomon's success as the result of actively practicing "Diligence – Perseverance and Persistence". Finally, business guru Geoffrey Moore charted a course in technology introduction for me with his book Crossing the Chasm, which suggests the establishment of a "beach head" for the innovation niche.

From my own experience, immersing yourself in a particular niche sows seeds for the germination of innovative ideas. Malcolm Gladwell in his book Outliers suggests that success depends heavily on having at least 10,000 hours of experience in a single area of endeavor. I think he is right.

Big Ideas

As a thinking innovator and entrepreneur I hone my observation skills to notice the simple processes around me which throw out opportunities for innovation. Hotels in resort areas reject a great deal of heat through their air conditioning system. At the same time, there are fuel deliveries to the hotel twice weekly to feed boilers which generate heat for the guest room and kitchen hot water. This set me thinking. Why not integrate the two? We could provide some ten to thirty percent of the cooling requirement and instead of burning more fuel, use that renewable energy to heat the hot water tanks to 60o C. Hotels would save between $5,000 to $20,000 a month, all while reducing carbon emission.

Making It Happen

With this idea, we found a small manufacturer in Mexico who created such a mechanism. We knew it was a great idea but would it be accepted by the market? Recalling the lessons from my inspirational reading list, I set up a "beach head" in Puerto Vallarta, Mexico. This area had a concentrated hotel market and it became my laboratory without walls. My daughter and I spent no fewer than 12,900 hours, diligently learning what the market specifically needed while we tried to sell "the value of an idea". It is never easy to sell an innovation. Too many prefer the well worn paths and the security it provides. It was only through much persistence that we later gained the trust of eight hotels which accepted and installed the new system. Together, we saved over a million dollars in fuel expense and avoided over 3,000 tonnes of carbon discharge into our environment. This proves our innovation to be one which cuts costs and lowers carbon emissions, making it an incentivized go-green project. We recorded all the savings and conducted video interviews with our clients for testimonials. We wanted to show that most large hotels in the world could do this – they could lower cost and help save the environment.

Our initiative had gained momentum but the Mexican manufacturer was not able to produce at a level that would be necessary for international market participation. We were faced with one obstacle after another but taken positively, these challenges pushed us to look for alternative solutions. We learned to be frugal. Our revenue was a meager commission paid by the Mexican manufacturer, but we learned how to keep expenses down. We even lived a couple of weeks on rice and beans waiting for our commission cheque. We learned how to do a great deal of legal work ourselves to cut down expenses. Finally, we applied for our own patent and made a provisional patent application for only $100.

Perseverance Pays Off

We are now back in the United States and have found another manufacturer in Michigan, USA. Our peserverence has paid off – we earned a letter of intent from Marriott International to install our patent pending unit in their properties. Admittedly, the headwinds of the recession has slowed us down a bit with our final development. However, we are applying the same persistence and diligence that has gotten us this far. From our customers, we have seen the value of our innovation. It has also directed us to a new business model. Many businesses are necessarily adjusting their size to accommodate a lower volume of trade. The common complaint is "my business is half of what it was in the past". What businesses need to realize is that growth and innovation are crucial elements to survival in the commercial waters. These are the necessary sails that must go up in order for the business to navigate the winds of recession.

Invent the Future

American writer and futurist, Alvin Toffler, wrote a book in the 70's called Future Shock. He correctly predicted that the rate of change in technology would be so fast that we would have trouble keeping up with it. Look around you. What machinery purchased in the 21st century isn't obsolete within three to five years? Even personal computers, the heart of many businesses, become obsolete within three years or less. The old accounting system, which calculates depreciation at ten to twenty years is in most cases outdated and a radical change of business model from capital purchase to the technology cycle positive cash-flow lease is taking its place. If your product can factually save a customer $10,000 per month over what he is doing today, lease it to him turnkey installed with service for $8,000. He'll be happy to put money into his pocket instead of taking money out. This forces you to build a robust product and the customers like stuff that will not break. Give him a service guarantee – if the product does not work for forty eight hours in the month he does not have to pay the lease that month. Hold the service people accountable and monitor over the internet to hedge your bet. If you lease for sixty months, twenty months should pay for the cost of materials, labor, service and capital expense, twenty months is profit to the stakeholders and twenty months goes to research and development for the new product offer in the sixty-first month. You'll get most of your innovative ideas from your customers. Perhaps you can make the product recyclable to lower your material cost down the road. In twenty years you will have kept the customer, learned to embrace disruptive technology and flourished through at least four technology cycles. Alan Curtis Kay, the conceiver of the laptop computer said that "the best way to predict the future is to invent it." He was right then as he is still, today.

Innovators must always keep a positive attitude. When the going gets tough, the tough get creative! Innovation is the way through recession.